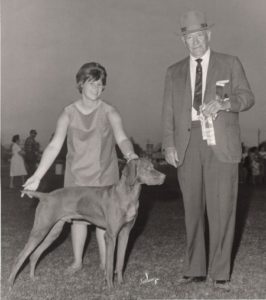 Champion Sandor Barat – Vizsla Club of America Hall of Fame
"Sandy" was our first Vizsla. What a way to start!! He was supposed to be "just a companion dog" but he was so much more!!
We got "Sandy" in 1964 – long before most people had ever heard of Vizslas. He was my constant companion but was destined for much bigger and better things. At my husband's suggestion we took him to some handling classes just for fun, but when people saw him they encouraged us to show him. That was the beginning of a great career. He was never defeated and his show career culminated in winning Best of Breed at the Westminster Kennel Club Dog Show – the first Western Vizsla ever to do so.
He was bred to several bitches and when one of the litters was due, I decided to keep a Hunting Dog. Little did we know what was in store for us.